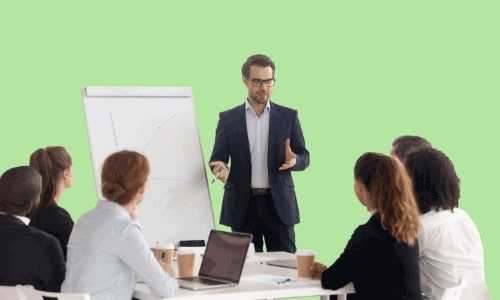 Learn the basics of
Leadership & Management
This course is aimed at giving you the most relevant skills, experience and knowledge to become the most competent leader and manager. This course will lead you to understand your team, make better decisions and reach your goals. During this course, leaders and managers will be exposed to the differences between leadership and management. Learn how to transition into the world of management and take those first steps in becoming a great leader or manager!
Key Learning Objectives:
Master effective team building skills
Engage in strategic thinking and planning
Investigate different communication approaches and strategies
Analyse different personalities as a manager and leader
Apply skills to manage and lead in difficult times
All levels
Certified
Sign up now and get unlimited acccess to ALL of our courses
Course details
1. Are you a manager or leader?
This lesson is aimed at understanding the differences between management and leadership functions. It further looks at the growth and fixed mindset models and how managers/leaders should apply these models. Finally, it explores SMART goals and why managers/leaders need to be part of the 8% of people who reach their goals.
2. Management competencies and why they matter
This lesson focuses on understanding the difference between skills and competencies. It further dives into key competencies required from managers and leaders and investigates the best practices for using and developing these competencies. Finally, the lesson explores different types of leaders and well-known examples.
3. Why is leadership so important in the workplace?
This lesson explores the reasons why effective leadership makes a difference to an organisation. Managers and leaders need to understand the impact leadership makes and the impact of negative leadership. It further explores the key dimensions of leadership and the approaches to focus on to become successful leaders. Finally, the lesson explores how leaders can lead with resolve and humility.
4. What kind of leader are you?
This lesson builds on the knowledge gained from lessons 1 to 3 and dives into different types of leadership approaches. It further explores the important differences between transactional and transformational leadership.
5. Key principles of leadership each leader should know
This lesson aims to provide leaders and managers with the soft skills needed to lead teams effectively and focuses on how to be a respectful manager or leader. It further focuses on building and maintaining trust with a team, and finally, explores how managers and leaders can take responsibility and lead with courage.
6. Be a leader that works to create a healthy company culture
Culture is one of the most important features of an organisation. This lesson focuses on providing managers and leaders with the tools needed to manage culture, the impact of culture and leadership and how to change an organisation's culture. Finally, the lesson explores the role of the leader/manager in creating a vision and mission linking to the organisational culture.
7. Be a leader that promotes diversity
Diversity management is a key management and leadership competency. This lesson looks at the concept of diversity and how it can be managed effectively. It further explores the challenges managers and leaders face when managing diversity and, finally, discusses diversity audits.
8. Leaders empower by using innovation and creativity
This lesson explores the need for managers and leaders to understand the role of innovation and creativity in the workplace. It aims to provide managers and leaders with the skills required to promote innovation and creativity in the workplace. Finally, the lesson explores the importance of knowledge sharing and collaboration.
9. The reason why top leaders/manager master the art of communication
The art of effective communication is more relevant than ever. This lesson explores the importance of communication in the work environment as well as key communication tools for managers and leaders. Finally, it investigates effective presentation skills.
10. How to be a leader that understand different personality types
Managing people is key for any manager or leader. This lesson dives into the different management and leadership techniques needed to manage extroverts and introverts. The perception theory is explored to understand how managers and leaders think. Finally, the importance of bias management is outlined and discussed.
Reviews
This course is fantastic! I learned so much so far, all topics are well explained.
The team do a great job at cramming so much information into each hourly session. It never feels like cramming though and stays in the memory easily.
I love the way the information is presented here, taking this courses you won't waste the time..